"No question," Hardwick said. "He's a guy that, touch wood, has been very lucky injury-wise.
"He hasn't had the pre-season that we would have liked obviously with the issues that he's had but the fact of the matter is guys don't forget how to play. They just need to start getting into a bit of a groove and we've got no question that's not too far away.
A fit and firing Martin, currently playing efficiently as a forward, would send shudders through the league with Richmond still firmly in contention for fourth flag in six years. "The way he plays the game, even at 60 per cent, is far above probably most to be fair," Hardwick said.
Tarrant trained with a glove to protect a cracked knuckle on his right hand and is expected to face the Cats though a decision on his availability will not be made until the last minute, Hardwick said. Tarrant underwent surgery last week to insert a plate in his hand.
Losing Tarrant would be a huge blow for the Tigers against a Cats side boasting star forwards Tom Hawkins and Jeremy Cameron. Tarrant would likely have the job on Hawkins. Youngsters Ben Miller and Bigoa Nyuon are in contention to replace Tarrant if required.
"He's looking likely at the moment," Hardwick said. "It's not the best thing to look at to be fair, his hand at the moment but obviously with the plates in there, it does make it stronger and he's just got to feel comfortable enough to play and if he's and we'll pick him ."
Ollie Florent set to remain a Swan
peter ryan
Sydney are on the verge of re-signing classy midfielder Oliver Florent, who was on the radar of Victorian clubs if he decided to move home.
Industry sources said the 23-year-old, who will be a free agent when he next comes out of contract, is keen to stick with the club that is moving into premiership contention as a key figure in an emerging young midfield.
Florent played his 100th game in round seven this season and is part of a new generation of Swans that includes Callum Mills, Will Hayward, Chad Warner, Nick Blakey, James Rowbottom, Sam Wicks, Tom McCartin, and Justin McInerney ensuring Sydney remains a competitive club again during this decade.
The Swans are discussing the terms on which star forward Lance Franklin will play on in 2023 while dual best and fairest defender Jake Lloyd also remains unsigned beyond this season.
Florent was picked 11 in the 2016 national draft and made his debut in round one 2017.
Lions aim to crush MCG curse without captain
Nell Geraets, Peter Ryan
The Brisbane Lions will be heading into their top-of-the-ladder clash at the MCG against the reigning premiers on Thursday without exciting forward Zac Bailey, who is sidelined with COVID-19 after captain Dayne Zorko was ruled out with a hamstring strain.
Bailey fell ill on Tuesday with his absence a huge out for the Lions as they attempt to get a win at the MCG in a rare appearance at the venue. They have won just once in the 11 matches they have played at the MCG since 2014.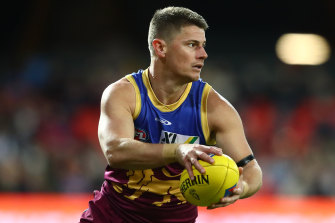 Lions defender Darcy Gardiner will also be ruled out, with first-gamer Jamie Tunstill, midfielder Tom Berry, and defender Jack Payne named to replace the missing trio.
The Demons recalled key forward Sam Weideman, and key defender Steven May is back for this first game since round 11. May missed the Queen's Birthday clash against Collingwood while he served a club imposed one-match ban for his altercation with teammate Jake Melksham.
The Demons have not won a game since round 10 and May was sidelined early against Fremantle in round 11 with concussion. Toby Bedford has been given another opportunity.
The Demons have lost their skipper, too, with Max Gawn out with a syndesmosis injury, while Mitch Brown has been dropped. Daniel Turner is missing with concussion after being diagnosed with the injury on debut.
Zorko was unable to overcome his hamstring strain in time for the blockbuster, leaving both top-rung teams with leaders on the sidelines.
Loading
The 33-year-old suffered the injury in round 13 against St Kilda. Despite major progress at the Lions' main training on Tuesday, he will not take his place in the 23.
Lions coach Chris Fagan confirmed on Wednesday that Zorko required more time, but was confident their star skipper would be able to return next week in shape for the last eight games of the season.
"He was close, but I think it's best to give him a rest, take the opportunity of the bye plus another week.
"Yesterday at training, the running he was doing, I thought he was moving as well as I've seen him move. I was pretty buoyed by that," Fagan said at Brisbane Airport on Wednesday morning.
Fagan said the Lions needed to focus on bringing their A-game to break their eight-year string of losses at the MCG and to make up for missing key players.
"The last time we played there was round one of 2020, which by half-time the competition had been cancelled," he said.
"There's been all these hoodoos we've been able to overcome, this is just another one, another step in our journey. Hopefully we can do it, but it's a 50-50 bet at the moment, they're a good side."
With Melbourne's three consecutive losses before their bye and their off-field dramas, this could be the Lions' moment to break their MCG curse, even without Zorko.