Long before there was master chefthere was The God of Cookery. In the 1996 film, Stephen Chow judges a fictional cooking competition that captivates audiences across China. The finale was held inside Jumbo Floating Restaurant – an epic scene of decadence befitting Jumbo's iconic status. Now Jumbo lies at the bottom of the ocean, as do many of Hong Kong's hopes of returning to its halcyon days.
The 76-metre-long behemoth, which could sit 2300 diners at a time, capsized in bad weather on Monday after being towed 690 kilometers towards the Paracel Islands in the South China Sea. It got that far with all the seaworthiness of a floating imperial palace, complete with a dragon throne, aquarium and a six-storey pagoda. By Tuesday afternoon, it was resting 1000 meters below sea level.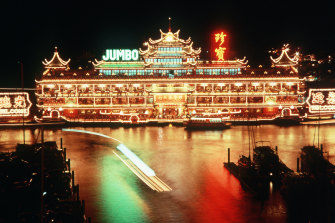 Jumbo closed at the start of the pandemic in March 2020, then floundered under the mountain of maintenance required to keep it afloat. Last week it set sail from Hong Kong to a destination unknown. A spokesperson for the company told the South China Morning Post the vessel was being towed to somewhere in Southeast Asia. But it never made it.
It is a poetic end for a vessel that came to epitomize Hong Kong's excess of the 1980s and 1990s when Western and Chinese money flooded into Asia's financial capital. The floating kingdom of Hong Kong casino tycoon Stanley Ho marked the center of Aberdeen Harbour. Its bookings surged on the back of tourism and investment, filling its thousands of seats nightly with diners chowing down on crabs, lobster, and roasted suckling pig.
"The food is fresh and bland enough for unadventuresome diners," an advertorial for the Hong Kong tourism board wrote in 2002. "But you don't really come here for the meal. You come because it's Jumbo."
The Queen is there, so did Jimmy Carter and Tom Cruise. But they have all long since disappeared from Jumbo and Hong Kong, which severed its ties to Britain in 1997, wiped out the pro-democracy movement in 2020, and shut its borders to the world that same year.
At its peak in 1987, a Jumbo replica – the Tai Pan – was parked opposite the Sydney Opera House by restaurateur Margaret Shen. It lasted a year before being sold to Ho and taken back to Hong Kong to expand Jumbo's empire. Jumbo's imperial kitsch had not translated well to Circular Quay.
"Each time I see it, I experience waves of nausea, and I know thousands of Sydneysiders feel the same way," Sydney Morning Herald critic Leo Schofield wrote ahead of its departure. "It's finally going home."