"Diners want something special, transformative," he says. "We want our guests to enjoy a mini holiday for the four hours they are here, and we commit to delivering that."
Commitment is not the first word most people would think of to describe dining out, but degustation chefs refer to it constantly, in terms of both time and money. Restaurant Botanic opened in July last year with The Garden Trail menu of 20 courses for $290 a person, to be paid in full at the time of reservation. With no refunds.
"There are not many restaurants that I know of in Australia that could make that call," says the Detroit-born James, formerly executive chef of Melbourne's Vue de Monde. "But we have been fully booked almost since day one. And with only 36 guests and five services a week, it's extremely difficult for us if a table of four doesn't show up for their reservation."
Devising a series of small, consecutive dishes allows chefs to create their own language. James says that spending a longer period with guests also lets him showcase the diversity of flavors that come from the gardens, and to tell their stories.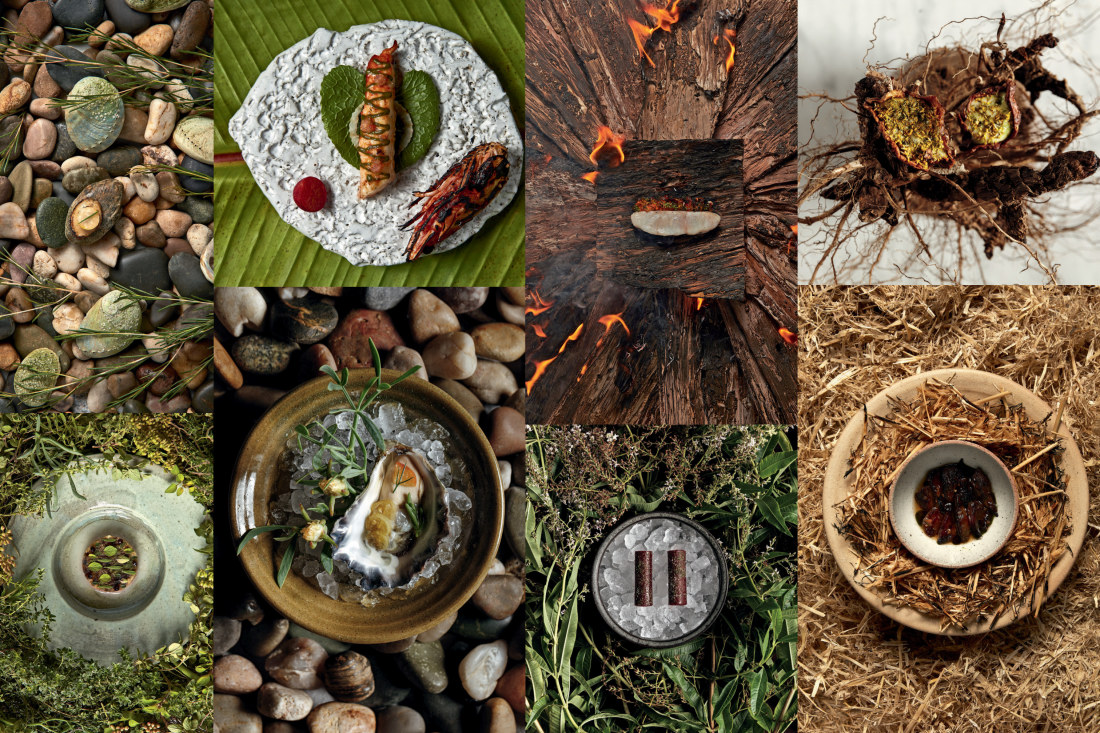 "Ingredients are like letters, and you start putting those letters together, and you have words. More words and you have a sentence." He doesn't think of it as tasting. "They're not 20 different dishes to us, they're 20 unique flavor combinations," he says. "I don't even call desserts, desserts. They are just dishes that can still be savory but focus a little more on sweetness."
With the entire botanic gardens at his doorstep, he has a constant and ever-changing reminder of seasonal diversity. "The garden has its own seed bank to protect that diversity for the future. One of the first things we did was to create the equivalent with our Ferment Lab, fermenting and preserving 2000 kilograms of garlics, vinegars and pickles."
James is gently scathing about the trend for chefs to have gardens. "They put a couple of leaves on the plate to remind you where you are," he says.
"I want to push myself more. What can I do with those leaves, how can I change them and serve them, so they still form a story about the garden?"
To illustrate, James smokes abalone in paperbark and grills it over a wood fire. The tender meat is tossed in a butter made of abalone livers and served on a rock under its own shell with a hot sauce of sea urchin, carrot and chilli, lightly grilled daikon and a single leaf of Geraldton wax, a citrusy, aromatic native.
At the table, guests are invited to lift the shell to reveal the abalone, as if they have caught it themselves. Sweet brown is cooked in lemon myrtle leaves and branches, with corn and fermented chilli.
Tangy Davidson plum is infused with lemon verbena and mountain pepper in a sorbet, and the gardens' fallen bunya branches are used to infuse a sweet custard, glazed with wattleseed miso and native thyme leaves.
Croissant dough is wrapped around a branch and cooked over the fire, glazed in parsnip caramel and finished with roasted grated macadamia. Pine needles are gathered to flavor a caramelised fudge, speckled with dried shiitake mushrooms and rolled in shiitake powder; one of the small bites at the bedtime end of the menu. And that's just six of the courses, with a further 14 to go.
"Everything that we do is about time and place," James says. "The place is the botanic gardens, then it widens to Adelaide, then South Australia. The time is now."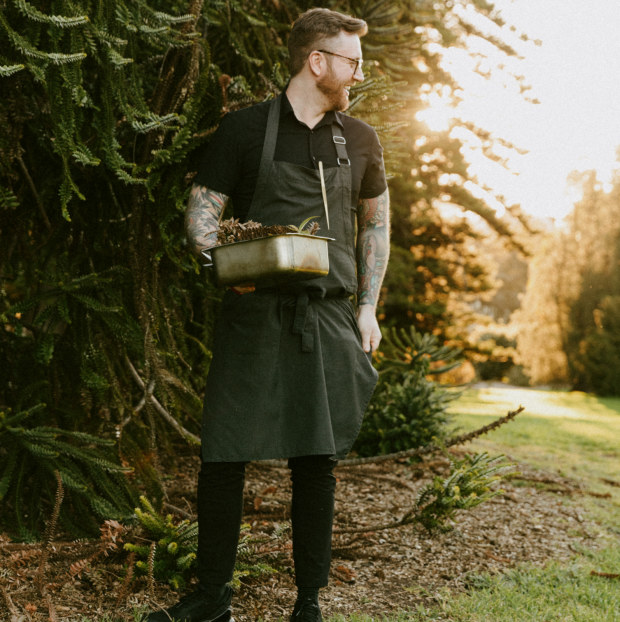 'If they get bored, they get tired'
Restaurant Botanic is all about the where and when. But Federico Zanellato and Karl Firla have upped the wow factor at Ele, housed in the former Momofuku Seiobo offering from Korean-American chef David Chang.
The chefs inject high drama into the experience by making their eight-course menu progressive, not passive. Diners start with a flurry of snacks at the bar, then move into the kinetic dining space as shape-shifting abstract videos play against curtains and walls. They move again to the broad kitchen counter for the finale.
"We decided not to have the traditional distinctions of entree, main course and dessert," says Zanellato. "It's nice for people to move to the kitchen counter to watch us cook the beef on the robata grill and interact with the chefs."
One of the key requirements of a tasting menu is that it flows naturally, rather than jumping incoherently from fish to meat and from crisp to juicy. "We always start from lighter to heavier, in terms of taste and texture," says Zanellato. "You need to have a good flow between dishes, and make sure the first dish connects with the following dish as a natural evolution."
Pearl meat, for instance, has a very subtle, sea-sweet flavour, so appears at the beginning. Marron or Murray cod has a depth of flavor that positions it further into their menu. It gets trickier towards the end. "By now you are moving into a protein such as wagyu beef, so you don't make it too big," he says. "Diners don't want 300 bites of the same thing. If they get bored, they get tired."
One of dining's bugbears for Justin James is that chefs often tick the same old boxes, and one of those is that desserts must be sweet. In a traditional kitchen, the chef does the main courses and a pastry chef handles desserts, as if subcontracted.
"It's like, 'Wow, I'm in a different restaurant now'," he says. "There's no connection. We don't even have a pastry chef. We just do all the dishes ourselves, so there is more flow, and no division between savory and sweet courses."
But as AA Gill so tongue-in-cheekily described, the diner's palate gets saturated quickly. "By introducing different textures, you wake it up and keep it interested," says Zanellato, citing his Chardonnay Fresh to Frozen pre-dessert, in which the grape is expressed in different forms and textures. "And you have to make sure there is a good amount of acidity throughout the whole tasting because that keeps things interesting rather than flat."
It's all in the timing, he says – the dishes being delivered fast, but not too fast. "I remember dinners where I had to wait for half an hour between courses, and then they would bring something that is just one bite."
He and Firla stipulate a sweet spot of 10 to 12 minutes between courses. "We handwrite the time on the docket when each course is taken to the table, and that dictates we have 10 minutes to produce the next course."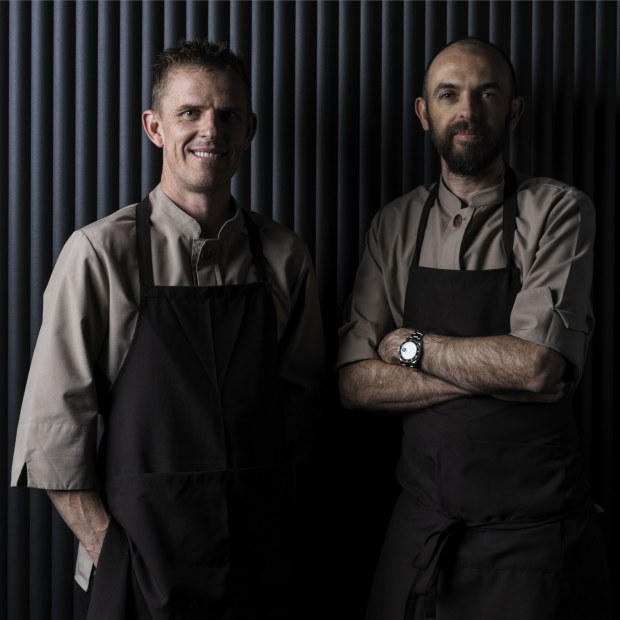 Wine or drinks pairings are increasingly taken up because guests want a luxury experience without the pedestrian exercise of decision-making. At Ele, the Atmospheric pairing is popular at $170 a person. In Adelaide, Restaurant Botanic's three different pairings are chosen by half the diners each night. Many opt for the premium Sommelier's Reserve pairing priced at $330 a person.
But profit margins drop when a table for two will happily sit on a single cocktail for the evening. "We can't control that," says Zanellato ruefully. "Yes, it affects the revenue for the night because we make more money on drinks than on food."
With brown, wagyu, caviar and truffles on the shopping list, food costs are high. But the fact that every diner is having more or less the same dishes makes a tasting menu more sustainable than a la carte, when chefs have to double-guess the kilograms of fish or steak they will need. "There's much less wastage and impact on the environment with a set menu," says Firla.
The Japanese concept of omakase, in which guests respectfully leave it to the chef to decide what they will eat, is also on the rise as cashed-up diners seek more intimate and memorable experiences. And as the diversified format, so does its market.
At Ele, Firla says, most tables are occupied by young Asian-Australians who typically spend a high proportion of their income on eating out, while other customers book for special occasions or corporate events.
Internationally, some degustation restaurants are moving away from multi-courses of meat towards plant-based menus. Daniel Humm did a 100 per cent plant-based turnaround at New York's Eleven Madison Park last year. Chef Rasmus Kofoed also announced last month that he would be dropping meat (but not fish) from the menu of his three-Michelin-starred Geranium in Copenhagen.
This brushing away of dining conventions, and desire to entertain and escalate, sets dining at the same level as a stadium concert or night at the theatre, for which you would make a pre-payment, dress up and commit to sharing three or four hours with people who enjoy the same thing.
For the chefs, it's a high-wire act of thrills, and hopefully no spills, that allows them to work with the best produce they can find. "Degustation is the best way to highlight the real heroes, the beautiful suppliers and farmers that we have," says Federico Zanellato. "It will continue to change and evolve, but it will always be there."
Three more to try
Underbar | Ballarat
Underbar (oon-der-bar) is set to open in the new seven-suite luxury boutique Hotel Vera in spring. The minimalist 10-course menu and drinks pairing for 14 diners springs from the adventurous mind of former Per Se (New York) chef Derek Boath. 710 Sturt Street, Ballarat, Victoria
exhibition | Brisbane
Chef Tim Scott, formerly of 10-seater Joy, promises escapism at this dark and moody cellar restaurant under the Metro Arts Theatre. Exhibition, which opened this month, serves Australia's finest produce as a series of curated small dishes in the Japaneses style of kaiseki. 190 Edward Street, Brisbane
Van Bone | Marion Bay
Described as a "restaurant and farm", Van Bone perches on the sloping hillside of Marion Bay, 50 minutes from Hobart. Tim Hardy and Laura Stucken offer a ruthlessly local and seasonal multi-course menu for 20 diners, with equally local views from the table. 357 Marion Bay Road, Bream Creek, Tasmania
The July issue of AFR Magazine – the Culinary & Travel issue – is out on Friday, June 24 inside The Australian Financial Review. Follow AFR Mag on Twitter and Instagram.